Client Name: ASP Screening, Inc.
Category: web site, hosting

ASP Screening is a premier provider of tenant screening data. Their Web site provides instant results for a multitude of background and credit searches.

This Web site interacts with national data-houses to provide real-time eviction, criminal, and credit history in less than 5 seconds. ASP Screening, Inc. uses this Web site's complex administrative back-end to setup organizations, allow clients to input applications, and execute searches.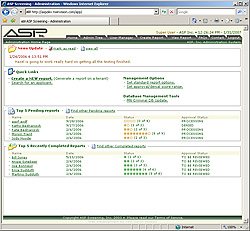 (advanced admin system)