Home
Web Development
Momentus Golf
Loyola Press
Agosto
HeLT Consulting
HomeWorks
Crown Bank
Video Buddy
ASP Screening
Executive Suites
Griffin International
NASA Pro Racing
ProVation Medical
Multimedia/Video
Miss Minnesota
Kroll - Ontrack
Kroll - Trial Graphics
Kroll - Data Recovery
Code 42
Fairview Gardens
NW Shelby club
MN PCTech
ProVation Medical
Hosting Solutions
The Marshall Group
The Wirth Companies
Loyola Press
ASP Screening
Product Development
Registration Studio
ProVation MC
Client Tools
Sharepoint
Web Mail

Portfolio Snapshot
Client Name: Executive Suites of Minnesota, Inc.
Category: web site, flash, hosting

Executive Suites of Minnesota, Inc. is a provider of distinctive, affordable, pleasant and professional office suite environments and services in the Twin Cities Metro Area.

This is a Flash / HTML hybrid Web site highlighting the executive suite rental space and the business services provided. The site allows for the capturing of customer information and quote requests. An administrative system provides the ability to review and maintain the quote information as well as content on the rental locations.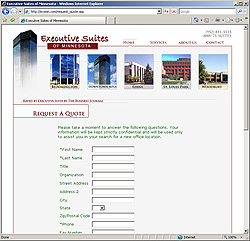 (click to view site)
© 2007 Copyright Twin Vision Studios, Inc. All rights reserved.