Client Name: Provation Medical, Inc.
Category: web site, flash, cms, hosting, product development

The ProVation Medical, Inc. is the leading provider of physician and preoperative procedure documentation software. They provide an enterprise-wide solution available to multiple medical specialties that promote productivity, cost-reduction, compliance and - most important - broad-based utilization and satisfaction by physicians, nurses other caregivers.

This Flash and HTML hybrid web site consists of a centralized sales documentation tool, as well as a content management tool for web site updates.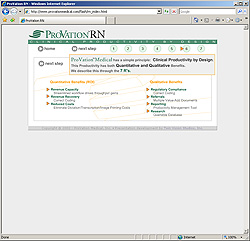 (click to view flash)