Client Name: Griffin International, Inc.
Category: web site, flash, cms, hosting

Griffin International, Inc. is a retail experts firm that specializes in assisting clients in all aspects of marketing, product development, and sourcing.

Twin Vision Studios, Inc. developed web sites for three of Griffin International's distinct product lines. Two of these web sites, ReactGamer.com and PsycloneGamer.com, are database-driven with a backend content management system. The unique visual branding on each web site is consistent with the retail product packaging and marketing.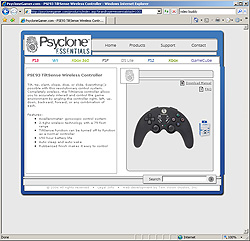 (click to view site)